Your Ultimate Source for All‑Things Vegan
Get the world's #1 plant‑based magazine
by Nicole Axworthy
April 28, 2022
Seattle-based Rebellyous Foods has developed a patent-pending production system that will allow the company to out-compete animal-based chicken nuggets on quality and price. According to Rebellyous, bringing down the costs of plant-based meat to achieve price parity with animal-based meat comes down to production progress rather than the product itself. Increased automation and self-regulating systems allow for vast operational savings, which can be passed directly to consumers.
The company currently has five patents pending for its proprietary automated technology, called the Mock 1S, which took more than three years to develop. The self-contained manufacturing process is what allows costs to be significantly reduced. The company says that its reliance on automation reduced its workforce requirements by 90 percent. Additionally, the company does not require a chilled environment, which allows Rebellyous to reduce its energy costs by 10 percent and its production space by one-third. Continuous production also means no time is lost and has led to a 90-percent reduction in material waste.
Using the new production system, Rebellyous Foods has produced what it describes as the first restaurant-quality vegan chicken nuggets. The inaugural nuggets are the first of millions that will allow the company to out-compete animal-based nuggets on all the factors that matter to consumers.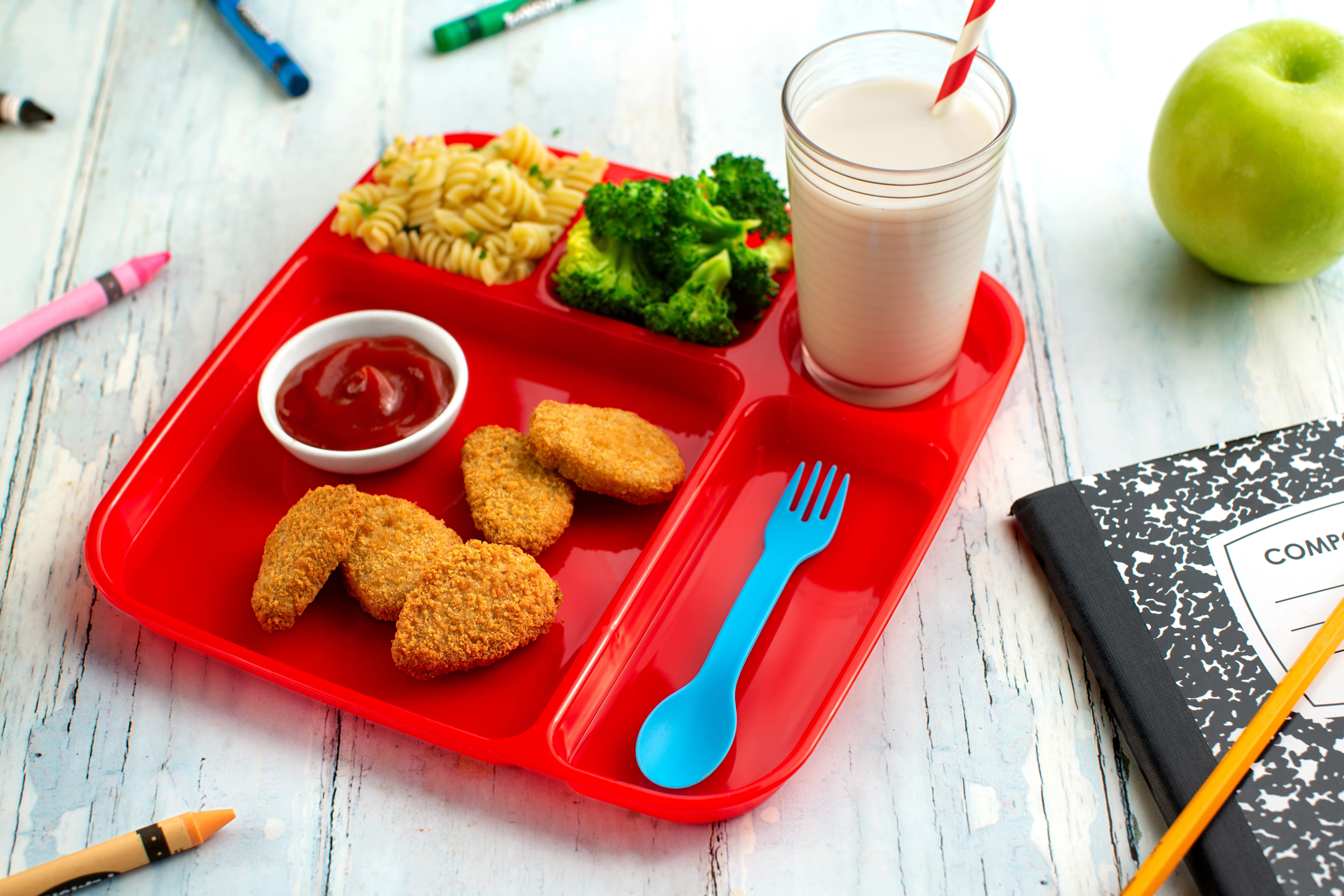 Hannah Kaminsky
Rebellyous—which debuted its first vegan chicken nugget in the foodservice sector in 2019—was founded with the goal of making its plant-based meat products more affordable than their animal-derived counterparts, and achieving efficient production technology was the golden ticket. The company secured $1 million in funding in 2018 and another $6 million in 2020 to create its vegan chicken nuggets—made from textured wheat, chicken-less flavoring, cornstarch, oil, and corn breading—using a proprietary processing technique that creates a texture comparable to animal-based chicken.
The company's new custom-designed system emulsifies, hydrates, and mixes to texturize the protein at the right temperature in one automated process flow, all without using conveyor belts or wasted steps. This is unlike other plant-based meat production plants, which utilize bowl choppers, tumblers, and conveyor belts, or conventional food processing infrastructure that isn't designed for efficient plant-based meat-making. The startup believes this new technology is a key milestone that will help it scale production and offer its vegan chicken at much lower prices.
"Rebellyous Foods was founded to solve some of the major issues inherent in current plant-based meat manufacturing: quality, consistency, and price. We are thrilled that our Mock 1S passed all functional tests," Christie Lagally, Rebellyous CEO and founder, said in a statement. "Our team is now working on the successor which will produce Rebellyous nuggets, patties, and tenders at 95 percent lower cost of manufacturing, and beat the competition … chicken."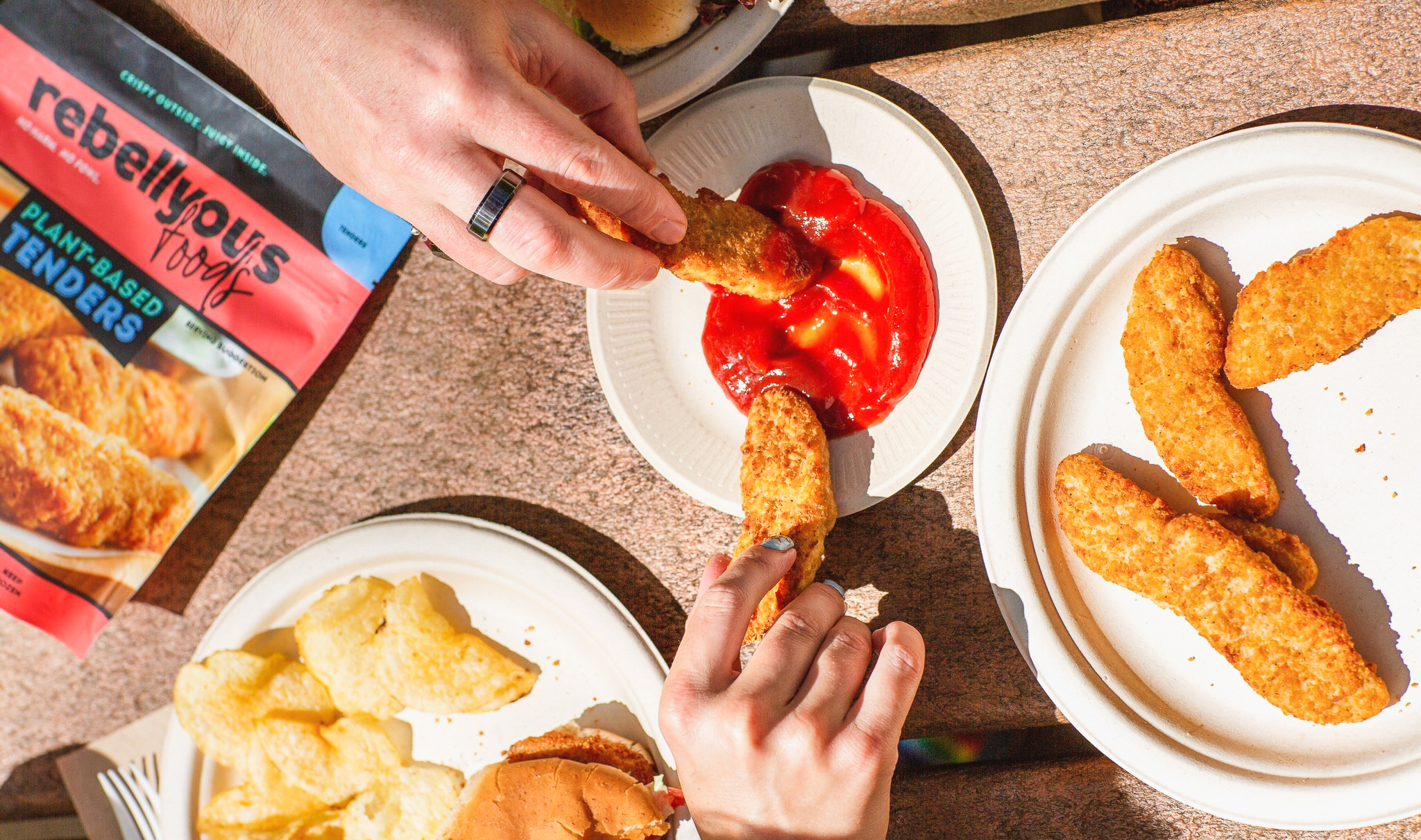 Rebellyous Foods
Achieving price parity is a vital step in mainstream adoption of plant-based meat because consumers are more likely to try a new plant-based option that is not much more expensive than its animal-based counterpart. In a recent study conducted by nonprofit Good Food Institute with consumer research firm Mindlab that investigated price as a driver of purchase intent, consumers ranked price as the second-most important factor (behind taste) in purchasing a plant-based product. On average, Neilson data demonstrates that plant-based chicken on a per-pound basis is currently four times as expensive as animal-derived chicken.
"Reaching price parity comes down to scale," Emma Ignaszewski, Corporate Engagement Project Manager at GFI, previously told VegNews. "Making the plant-based meat supply chain more efficient and more resilient to risks can result in lower costs for the manufacturer—and ultimately, more affordability for the consumer."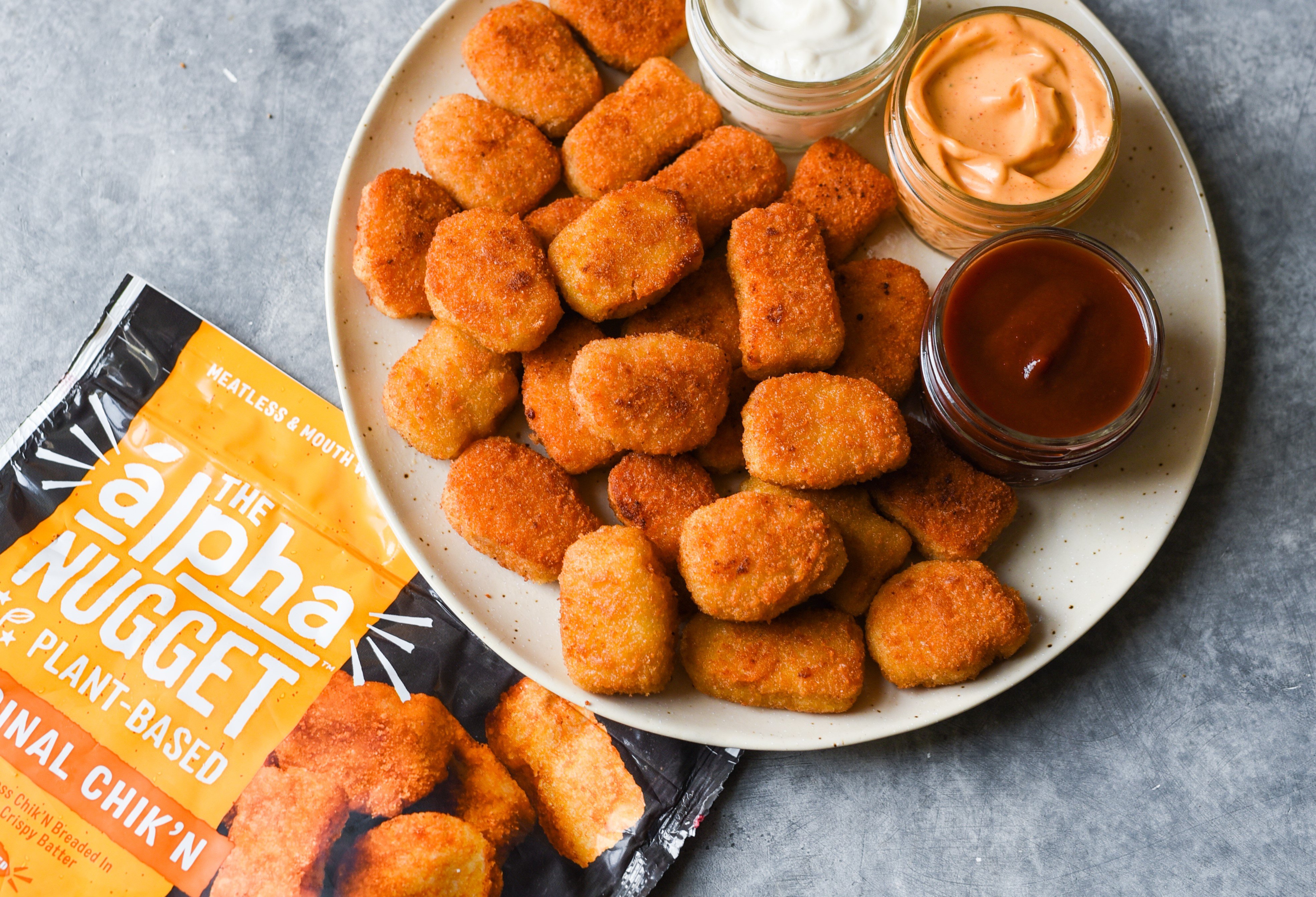 Alpha Foods
In recent years, other major brands have attempted to undercut animal meat to further drive demand for plant-based products. In 2021, California-based vegan brand Alpha Foods decreased the price of its vegan Chik'n Nuggets right as the price of traditional nuggets was rising due to a shortage in the factory farm supply chain. Alpha Foods worked to combat the "chickenflation" by dropping the price for every cent that animal-based nuggets increased in a particular week, with the goal of making vegan alternatives to chicken more appealing.
"In the past few months, chicken prices have skyrocketed, leaving consumers looking for alternative options," Kierstin De West, Alpha Foods Chief Marketing Officer, said in a statement at the time. "By lowering the price of our plant-based chik'n products in-line with chickenflation, we're encouraging people to try something new, without the pressure of changing their entire diet."
For more on vegan chicken nuggets, read:
Impossible Foods Just Launched Vegan Chicken Nuggets
Vegan Chicken Nuggets Come to School Menus in California and Washington
Burger Kings Is the First Fast-Food Chain to Serve Impossible Nuggets
Nicole Axworthy is the News Editor at VegNews and author of the cookbook DIY Vegan.
Get FREE vegan recipes delivered to your inbox by signing up for our award-winning VegNews Recipe Club.
Sign Up
Get FREE vegan recipes delivered to your inbox by signing up for our award-winning VegNews Recipe Club.
Sign Up
Never miss out on exclusive stories, recipes, and giveaways
All-things vegan,
in your mailbox and inbox
ONLY $25
by Nicole Axworthy
by Anna Starostinetskaya
by Nicole Axworthy
by Nicole Axworthy
by Nicole Axworthy
by Anna Starostinetskaya
Get the world's #1 plant-based magazine
Copyright © 2022 Fresh Healthy Media, LLC