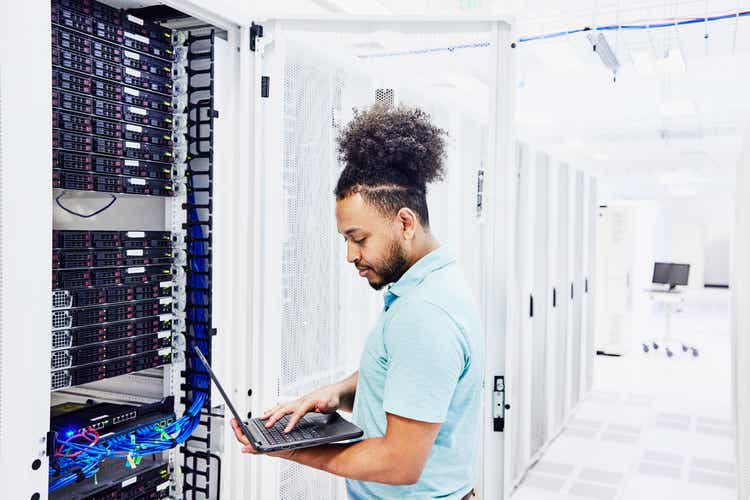 Thomas Barwick/DigitalVision via Getty Images
DXC Technology (NYSE: DXC) is a technology solution company that provides mission-critical (IT) services that transform businesses. With its workforce of over 130,000 in 70 countries, DXC service companies across multiple industries. Some of the company's enterprise stack includes Data Analytics and Engineering, Enterprise Application and Modernization, Cloud Services, IT Security, and Outsourcing. DXC Technology is a leading Fortune 500 global technology services provider and enjoys solid partnerships with several high net worth companies and a considerably large pool of customers worldwide.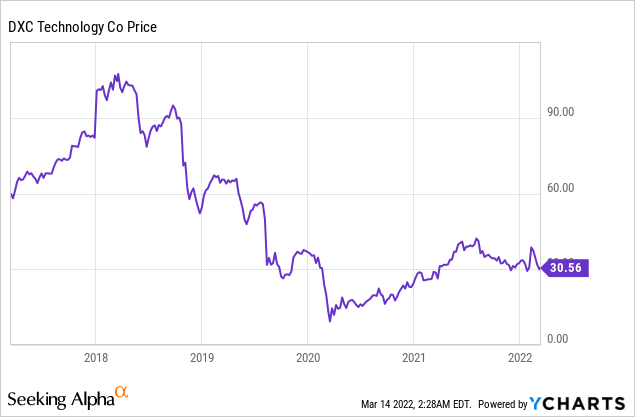 ycharts.com
Formed in April 2017 by a merger of CSC (Computer Sciences Corporation) and (HPE) (Hewlett Packard Enterprise), DXC Technology recorded a quarterly sequential revenue generation in the last financial year while the company has started the current financial year with a strong partnership with Lloyd's and London Insurance Market to transformed its paper-based and analogy operation to a digital and automated operating system. The IT solution company headquartered in Ashburn, Virginia, is standing on solid fundamentals. DXC Technology maintained healthy financials in the last financial year, and its recent growth is a pointer to a bullish signal in the med-term.
FY 2021 witnessed the continuation of DXC's strategic transformation. In the last financial year, DXC Technology consolidated its strategic transformation, sanitized its financial status, strengthened the company for a profitable FY 2022, and positioned it for long-term growth. DXC Technology undertook a robust financial and operational restructuring ahead of what the company's management believed to be a profitable future. The company was able to drive down its operational cost and reduce its debt profile from over $5 billion at the beginning of Q3 FY 2020 to $1.35 billion at the end of Q4 FY 2021. DXC also reduces its real estate footprint by increasing the percentage of its remote staff and adopting a more virtual method of operation. DXC Technology had a strong start in the last financial year, with the company achieving a book-to-bill ratio of 1.2x, which is healthy for the company's growth. The company recorded a revenue of $4.5 billion in Q1 2021 and a positive sale growth of 2.26%. The revenue is, however, $300 million lower than the company's revenue for the same quarter in 2020, which was $4.8 billion. Nevertheless, DXC report for Q1 2021 is a testimony to the company's resilience post-COVID 19 pandemic and the result of its partnership with Sabre Retail Intelligence to use a technology solution to redefine the global travel industry, which was a significant indicator of the company's ability to make strategic partnership for its long term goals.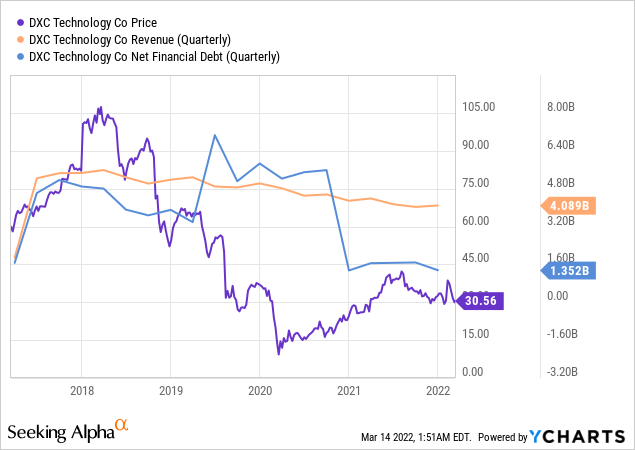 ycharts.com
In Q2 2021, DXC Technology Company continued with its cost optimizations growth with a consolidated revenue of $4.5 billion and a book-to-bill ratio of 1.1x, with half of the bookings being new bookings and the other half being renewal. However, this figure is also slightly lower than realized in Q2 2020. DXC recorded $4.8 billion in Q2 2020, which is $287 million higher than Q2 2021. However, the company recorded 50% new booking which was significant to its expansion. Furthermore, DXC recorded $4.288 billion as consolidated revenue in Q3 2021, which was $732 million lower than in Q3 2020 ($5.021 billion). However, the company had a book-to-bill ratio of 1.13x, making it the third quarter in a row with 1x book-to-bill bookings. Moreover, DXC paid $3.5 billion as debt servicing in the quarter under review. In Q4 2021, DXC recorded $4.39 billion as consolidated revenue and a book-to-bill ratio of 1.08x with 53% new booking and 47% renewal.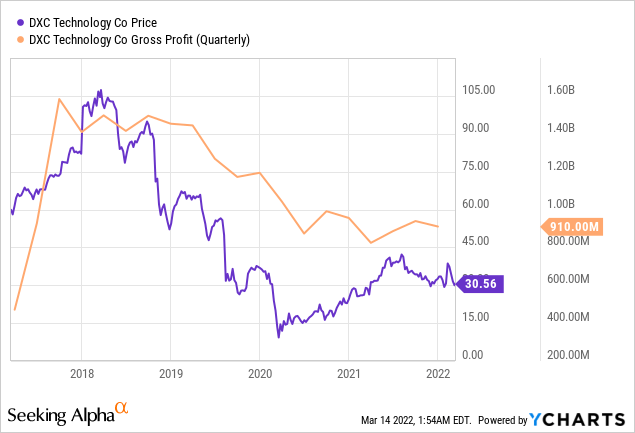 ycharts.com
At the end of FY 2021, DXC Technology achieved $550 million in cost savings and paid $6.5 billion in debt servicing to guarantee a healthy balance sheet. A total revenue of $17.7 billion was achieved for FY 2021 and a gross profit of $3.6 billion.
DXC Technology started the 2021 financial year with vigor and determination to increase revenue flow and expand through strategic partnership. The company is now set to leverage the advantages in the insurance market by developing advanced tech and processing software for insurance companies. This is one of the strategic plans of the tech company to consolidate on its 2020 gain. On the 7th of March 2022, DXC Technology announced the appointment of Raymond August as President, Insurance Software and Business Process Solutions. Because of the significance of his role, Raymond is to report directly to the CEO, Mike Salvino. Raymond will also leverage his position and expertise as a veteran in the technology industry and his years of experience in the insurance industry to develop software for banks and horizontal business process services (BPS).
Interestingly, DXC Technology had signed a multi-year agreement with Lloyd's to transform the London Insurance Market. London Insurance Market is the world's largest insurance center, with 7.6% of the global commercial insurance market. This poses a rare capital opportunity for DXC to expand its operations and increase its revenue as London Insurance Market is worth more than $100 billion and has more than 47,000 employees.
Furthermore, DXC Technology also extends its partnership with ServiceNow, an American software company domiciled in California. Both companies partnered on DXC Platform X, an intelligent automated platform to help detect, prevent and address issues before they happen within the IT estates. This product and partnership will deliver a new marketplace and revenue flow for DXC. Going forward, DXC Technology has been selected as the Master System Integrator for Western Sydney International Airport. The airport, which is scheduled for opening in 2026 and worth $5.3 billion, is another significant revenue and long-term partnership opportunity for DXC. DXC has been commissioned to build its foundational technology platforms in preparation for its opening and subsequent operations.
In another development, in February 2022, DXC signed a Multi-year agreement with the University of Newcastle to manage the University's Campus Solution, which includes database management, Amazon Web Service, and Middleware Support. With over 37,000 students and more than 1000 academic staff, this deal gives DXC the authority to manage the University's IT infrastructure in its totality. No doubt, a deal of such magnitude will further consolidate DXC repositioning.
DXC Technology as a mission-critical IT services provider, has been in the position of restructuring and expansion in the last couple of years. Although established in 2017, the company has achieved a milestone within the IT industry. The Ashburn company has many high net worth companies as customers and has partnerships with many multinational corporations.
It is crystal clear that DXC Technology has a solid fundamental, and the metrics surrounding the company make it bullish. With the successful completion of its strategic repositioning and the partnerships it has bagged just within six years of existence, it is undoubtedly a good bet for smart investors. It is interesting to note that several hedge funds and institutional investors have taken a long position on DXC. A closer look at form 13F in Q3 and Q4 2021 shows how hedge funds have a bullish sentiment on the company. Glenview Capital is the largest of these shareholders of DXC Technology, with a stake worth $188.3 million. Furthermore, other hedge funds that added to their positions during the last quarter of 2021 include Point72 with $48 million and TwinBeech Capital with $5.6 million. A combination of various fundamental factors, including the company's various strategic plans and partnerships to boost its operational efficiency, makes DXC a solid choice that investors might want to add to their portfolios.
This article was written by
Disclosure: I/we have no stock, option or similar derivative position in any of the companies mentioned, and no plans to initiate any such positions within the next 72 hours. I wrote this article myself, and it expresses my own opinions. I am not receiving compensation for it (other than from Seeking Alpha). I have no business relationship with any company whose stock is mentioned in this article.